Social prescribing, sometimes referred to as community referral, is a means of enabling GPs, nurses and other primary care professionals to refer people to a range of local, non-clinical services. Recognising that people's health is determined primarily by a range of social, economic and environmental factors, social prescribing seeks to address people's needs in a holistic way. It also aims to support individuals to take greater control of their own health, which is becoming an increasingly important part of medicine, not only because of the AI revolution but also because it is cheaper for the NHS if people have greater control over their own health.
Social prescribing schemes can involve a variety of activities which are typically provided by voluntary and community sector organisations. Examples include volunteering, art activities, group learning, gardening, befriending, cookery, healthy eating advice and a range of sports. There are many different models for social prescribing, but most involve a link worker or navigator who works with people to access local sources of support. It is designed to support people with a wide range of social, emotional or practical needs, and many schemes are focussed on improving mental health and physical well-being. Those who could benefit from social prescribing schemes include people with mild or long-term mental health problems, vulnerable groups, people who are socially isolated (see loneliness post), and those who frequently attend either primary or secondary health care.
A standard model of social prescribing has been developed in partnership with stakeholders, which shows the key elements that need to be in place for effective social prescribing;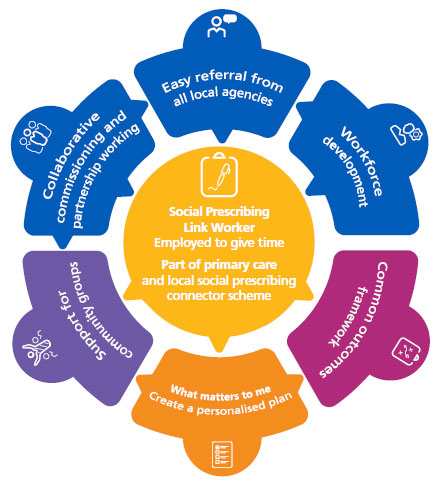 When social prescribing works well, people can be easily referred to link workers from a wide range of local agencies, including general practice, pharmacies, multi-disciplinary teams, hospital discharge teams, allied health professionals, fire service, police, job centres, social care services, housing associations and voluntary, community and social enterprise (VCSE) organisations. Self-referral is also encouraged.
Social prescribing was highlighted in 2006 in the White Paper Our health our care our say as a mechanism for promoting health, independence and access to local services. The objectives of social prescribing also support the principles set out in subsequent NHS policy documents, including the NHS five year forward view (2014), which encourages a focus on prevention and wellbeing, patient-centred care, and better integration of services, as well as highlighting the role of the third sector in delivering services that promote wellbeing. More recently, the General practice forward view (2016) has also emphasised the role of voluntary sector organisations – including through social prescribing specifically – in efforts to reduce pressure on GP services. In addition, social prescribing contributes to a range of broader government objectives, for example in relation to employment, volunteering and learning.
Does social prescribing work?
There is emerging evidence that social prescribing can lead to a range of positive health and well-being outcomes. Studies have pointed to improvements in areas such as quality of life and emotional wellbeing, mental and general wellbeing, and levels of depression and anxiety.  As I inadvertently mentioned earlier, social prescribing schemes may also lead to a reduction in the use of NHS services. A study of a scheme in Rotherham (a liaison service helping patients access support from more than 20 voluntary and community sector organisations), showed that for more than 8 in 10 patients referred to the scheme who were followed up three to four months later, there were reductions in NHS use in terms of accident and emergency (A&E) attendance, outpatient appointments and inpatient admissions.  Throughout the UK, 59% of GPs think social prescribing can help reduce their workload.
However, robust and systematic evidence on the effectiveness of social prescribing is very limited. Many studies are small scale, do not have a control group, focus on progress rather than outcomes, or relate to individual interventions rather than the social prescribing model. Much of the evidence available is qualitative and relies on self-reported outcomes. Researchers have also highlighted the challenges of measuring the outcomes of complex interventions or making meaningful comparisons between very different schemes. Furthermore, determining the cost, resource implications and cost-effectiveness of social prescribing is particularly difficult.
Although these sorts of schemes have been in place since the 1980s, they are only really taking off now. In the Long Term Plan NHS England committed to building the infrastructure for social prescribing in primary care:
There will be 1,000 new social prescribing link workers in place by 2020/21, with significantly more after that, so that:
At least 900,000 people will be referred to social prescribing by 2023/24.
This is part of the drive to Universal Personalised Care that will see at least 2.5 million people benefiting from personalised care by 23/24.
This is a public health England document for further reading, and here is a BMJ document on it.
Reflecting on this, social prescribing shows the importance of holistic care for patients, and the role of the multidisciplinary team in this care. Furthermore, it shows the general trend towards all of us having greater control over our own health. To follow on from this, in a fortnight's time, I will write about Universal Personalised Care.